On-Demand Accessible Van Rental Software
Rent Centric On-Demand provides state-of-the-art tools for efficiently managing your Accessible Van Rental operation. It offers a comprehensive solution for overseeing your Accessible Vans, customers, employees, and revenue. With robust features such as vehicle tracking, maintenance and history recording, financial management, and fleet reporting, our Accessible Van Rental software ensures that every aspect of your business is taken care of, allowing you to enjoy a fun and stress-free work environment.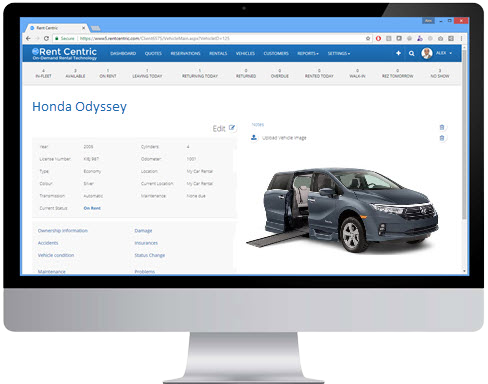 Branded Website for Your Van Rental Operation
At Rent Centric, our primary objective is to streamline and optimize your Accessible Van Rental business, allowing you to focus on what truly matters. To enhance the efficiency of your operations, we have developed a range of specially designed WordPress themes with a brand new, mobile-responsive rental reservation interface seamlessly integrated. This eliminates the need for constant web development expenses and the associated headaches. With our solution, you can quickly start accepting online reservations directly from your branded WordPress reservation site. By leveraging the growing trend of customers reserving cars online, Accessible Van Rental operators can save costs on third-party reservation services for web bookings. Rent Centric accomplishes this through a comprehensive, real-time WordPress integrated reservation system that can be seamlessly incorporated into your existing website.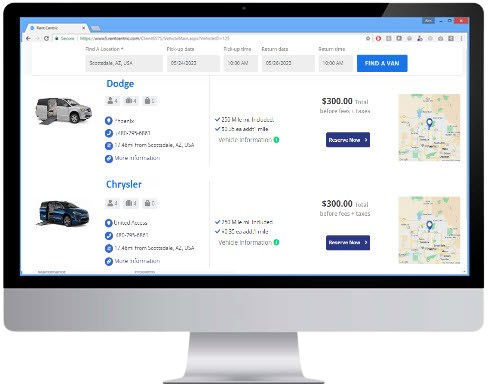 Advanced Reporting Tools
Rent Centric On-Demand provides a comprehensive suite of advanced tools specifically designed to efficiently manage your Accessible Van Rental operation. It serves as a complete solution for overseeing your cars, customers, employees, and revenue.
With Rent Centric Accessible Van Rental Software, you have access to a wide range of reporting tools that offer extensive insights in the following areas:
1. Fleet Management: Obtain detailed information and analytics regarding the performance, utilization, and maintenance of individual vans.
2. Customers: Access comprehensive data and analytics related to your customer base, including their rental history, preferences, and contact information.
3. Rentals and Reservations: Effortlessly track and manage all rental transactions and reservations, ensuring smooth operations and accurate record-keeping.
4. Management and Revenue: Gain valuable insights into the financial aspects of your Accessible Van Rental business, including revenue generation, expenses, and profitability.
Furthermore, Rent Centric Accessible Van Rental  Software enables you to generate future reports, allowing you to accurately forecast revenue generated by each individual vans. This feature empowers you with the necessary tools to make informed business decisions and optimize the financial performance of your operation.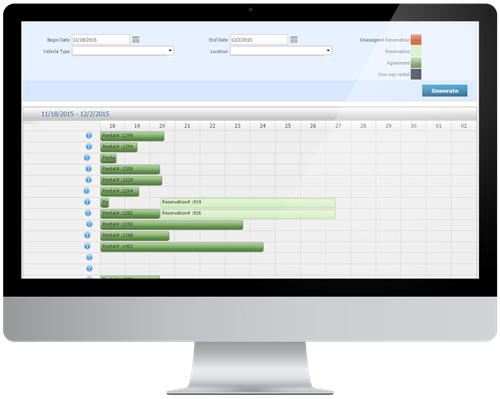 Real-Time GPS Tracking for Vans
With Rent Centric's integrated real-time GPS tracking system, you have the ability to monitor every aspect of your vans, including their precise location, speed, and trip history. This comprehensive monitoring process can be conveniently conducted through the Rent Centric software, all from a single screen.
- Locate, Track, and Pinpoint: Effortlessly locate and track your vans with pinpoint accuracy using our integrated GPS technology.
- Immobilize: Take control of your fleet by remotely immobilizing or disabling specific vans when needed.
- Setup Schedulers: Set up schedulers to automate tasks and alerts related to your fleet, enhancing operational efficiency.
- Mobile Access: Enjoy the convenience of accessing the GPS tracking features on the go through mobile devices.
- Fleet Management: Effectively manage your entire fleet with Rent Centric's integrated GPS telematics system.
- Out of State Charges: Streamline the billing process by automatically calculating and applying out-of-state charges as needed.
- Fully Rent Centric Integrated: Seamlessly integrate the GPS tracking capabilities into the Rent Centric software, ensuring a cohesive and efficient management experience.
 With Rent Centric's real-time GPS tracking solution, you can maintain complete control and oversight of your fleet, enabling improved operational efficiency and enhanced security.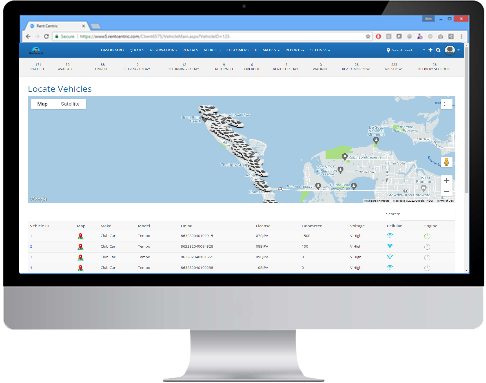 Remote Signature, Registration, Credit Card Payment & SMS
With the Rent Centric Mobile Agent App and advanced contactless technology, you have the capability to effortlessly handle the entire reservations-to-rental agreement process, as well as the check-out and check-in procedures, directly from your tablet or smartphone. This intuitive app enables various functions such as on-screen contract signing (with the option to email the contract), scanning and verification of driver's licenses using 2D barcode technology, and, if desired, credit card chip reading and processing. Additionally, the app supports image and video capturing for effective damage control purposes. 
Questions? We're here to help. Ask us anything!
We understand the vehicle rental industry and we are proud to present a solution to make your business as successful as possible.
Contact Us